All-inclusive resorts are the best option if you're looking to have a relaxing time on vacation without having to worry about all the logistics. Most people are used to seeing these all-inclusive resorts in Mexico or the Caribbean, but did you know the United States is home to luxurious and beautiful all-inclusive resorts that won't break the bank. These resorts are not only diverse in their landscape but also offer incredible views, experiences, and overall a great time when staying there.
Everything you'll need on your holiday will be located inside your retreat, and you pay a flat fee for it when booking. That means you can eat all the food and drinks you want, without paying for it when you arrive. Take a look at these 15 U.S. all-inclusive getaways that are worth your time and money to visit.
1. Vista Verde Guest Ranch
Where: Clark, Colorado
If you love the rustic life, then Vista Verde Guest Ranch is for you. The ranch is filled with indulgent luxuries but also allows their guests to unplug and enjoy the farm. The ranch also doesn't have any phones, televisions, or internet in the guest rooms.
Their amenities include swimming pools, a shared lounge area with panoramic views, a fitness center, an indoor riding arena, and a kid's area.
2. White Stallion Ranch
Where: Tucson, Arizona
Grab a partner and check out the White Stallion Ranch, which is known as a blend between a dude ranch and a luxury resort. This all-inclusive ranch will give you the taste of western American culture without having to give up delicious food or running water.
Their amenities include a heated pool and hot tub, recreation room, movie theater, petting zoo, nightly entertainment, and a schedule of children's activities. They offer vacation packages and specials for family reunions or holiday trips.
3. Skytop Lodge – 15 All-Inclusive Resorts that Won't Break the Bank
Where: Skytop, Pennsylvania
This beautiful lodge was built in 1928 and provided the guest with the experiences of rugged outdoor terrain. Sitting on 5,500-acres of land, the guest will never be bored when hanging out around the lodge. With beautiful views on the Poconos Mountains, the guest will forget all about their electronics while visiting.
Amenities include a spa facility, outdoor adventure activities, and culinary dining experiences.
4. Lodge on Little St. Simons Island
Where: Little St. Simons Island, Georgia
If you're looking to get away and have some privacy, then this lodge is for you. Sitting on over 11,000-acres of land, you'll enjoy over seven miles of private beaches that only 32 people can stay on at a time. You'll love the natural beauty that surrounds you, and their personalized service will make you feel right at home.
Amenities include meals prepared by an on-site chef, boat transportation to and from the island, naturalist-led excursions twice a day.
5. Woodloch Pines Resort
Where: Hawley, Pennsylvania
Woodloch Pines Resort is an excellent all-inclusive for some traditional family fun. This family-owned resort gives all its visitors a warm welcome and offers an extensive activity program that has something for everyone. They also have a championship golf course and a world-class spa.
Some of their amenities are and indoor and outdoor swimming pool, rock climbing wall, kayaking, snowshoeing, and nightly entertainment.
6. Grand Hotel – 15 All-Inclusive Resorts that Won't Break the Bank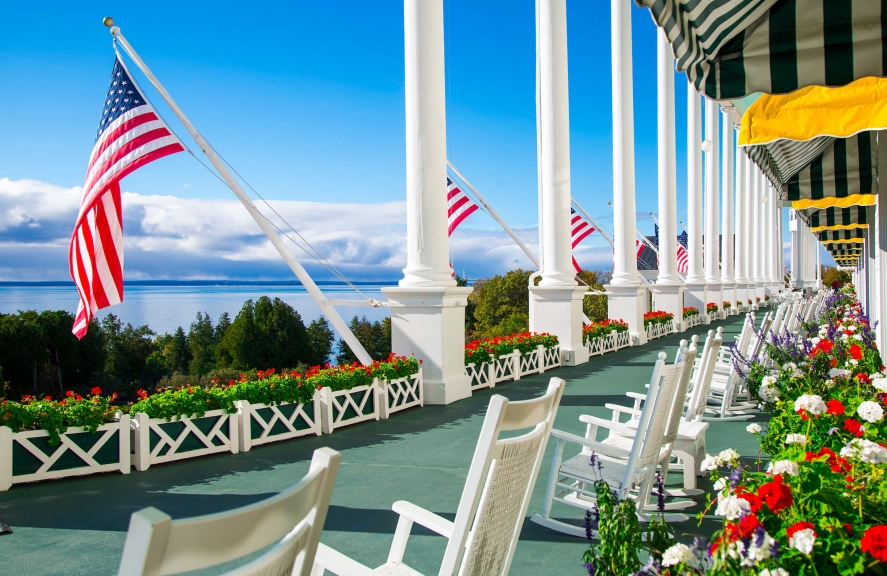 Where: Mackinac Island, Michigan
Historical Mackinac Island is home to their gorgeous hotel that allows no cars. You heard us right, no cars are allowed at this hotel, and instead, the guest is transported by a horse-drawn carriage. The hotel boost history and guest will love the world's most extended porch that the hotel has to offer.
Their amenities include individually decorated rooms, an outdoor swimming pool, nightly dancing, lawn games, and afternoon tea.
7. Sandpearl Resort
Where: Clearwater, Florida
If pristine white sand and 700-feet of the beach is something you desire, then the Sandpearl Resort is a perfect all-inclusive for you. Located along the Gulf of Mexico, this elegant resort will give the guest a vacation experience like no other.
Their amenities include a pool with a poolside bar, babysitting, children's activities, and a fitness center.
8. Shore Hotel
Where: Santa Monica, California
This legendary hotel will give you breathtaking views of the ocean and is known as an upscale boutique Gold LEED-certified property. Just steps from Santa Monica pier, the 3rd Street Promenade, and the shopping district, guests won't be bored when they arrive at this hotel.
Some amenities include a pool with a poolside bar, children's activities, fitness center, dog-friendly, and easy beach access.
9. Prince Waikiki – 15 All-Inclusive Resorts that Won't Break the Bank
Where: Honolulu, Oahu, Hawaii
The Prince Waikiki is a modern hotel with artful design. It is located in the heart of Honolulu and walking distance from Ala Moana Center and the surrounding beaches. Guests will love the panoramic ocean view and a rooftop pool.
Their amenities include a hot tub, nightclub with a DJ, fitness center, business center, bar and lounge, and valet parking.
10. Sonesta Resort Hilton Head Island
Where: Hilton Head, South Carolina
The Sonesta Resort is a great getaway location that is set without the Shipyard Plantation. The resort is adjacent to Van Der Meer Tennis and Shipyard Gold. They're minutes away from shopping, and the area is known to hold the RBC Heritage Golf Tournament.
Their amenities include private balconies and patios, a spa, fitness center, outdoor pool, and children's water activities.
11. Loews Royal Pacific Resort
Where: Orlando, Florida
This resort is filled with tropical wonders, exotic food, and carefree fun. This resort is located on-site at Universal Orlando Resort and is the heart of excitement for Universal Studios, Florida. Guests can enjoy theme park benefits and skip lines.
Amenities include a bar and lounge, pool, table tennis, fitness center, game room, and babysitting.
12. Juniper Springs Resort – 15 All-Inclusive Resorts that Won't Break the Bank
Where: Mammoth Lakes, California
Being surrounded by breathtaking mountains is a reality when visiting the Juniper Springs Resort. The resort offers ski-in, and ski-out amenities, and the Beagle bae lodge offers all your ski resort needs next door. During the summer, the resort has a golf course, plus they hold specials during the holiday months.
Some amenities are skiing, gondola rides, snowmobile adventures, and mountain tours.
Juniper Springs Resort Website
13. Turtle Bay Resort
Where: Oahu, Hawaii
Sitting on the North Shore of Oahu, Turtle Bay is a great resort to stay at for a little relaxation. You get amazing views of the Pacific Ocean, and they offer guest tones of adventure activities if they're up to it.
Amenities include a pool area with a waterslide, hot tub, and an extensive activities list.
14. Parrot Key Hotel and Villas
Where: Key West, Florida
The Florida Keys are filled with a fantastic history, delicious bars, and beautiful waters. The Parrot Key Hotel and Villas will make you feel at home with glimmering pools, hammocks, and delicious cocktails, surrounded by the beautiful island life.
Their amenities include a pool, bar and lounge, fitness center, bicycle rentals, and private beach.
15. Omni Dallas Hotel – 15 All-Inclusive Resorts that Won't Break the Bank
Where: Dallas, Texas
Sitting in the heart of downtown Dallas, the Omni Dallas Hotel is the perfect spot to stay if you want to visit the endless opportunities of the city. Surround by the Dallas Arts District, Bishop Art District, and more, and this hotel is perfect for anyone who wants to visit the Lone Star state.
Amenities include a pool, bar and lounge, business center, fitness center, evening entertainment, and a conference facility.
As you can see, you don't need to go far to get a fantastic deal and a great location.
This article originally appeared on flyost.com