The modern off-road cycling sport began in Northern California during the late 1970s and today is a popular recreational and competitive activity. From 1976 to 1979, California organized regular downhill mountain biking races, which drew media and public attention. Mountain biking involves riding a bicycle over off-road trials. It is a highly energetic sport that involves a complete body workout. One must have endurance, speed, balance, and technical skills to navigate rough terrain. Cycling also enhances balance, coordination, and stability. On every ride, mountain biking provides an opportunity to explore the outdoors while reducing stress. For those starting, here is our beginners guide to mountain biking.
Types Of Mountain Bikes
A mountain bike can be classified into a few different categories. It will give you an idea of what terrain and bike riding are best suited for, but these aren't hard-and-fast rules.
Hardtail Bikes
A hardtail bike has no suspension at the back. You're more likely to get knocked around on bumpy or rocky downhill terrain. Some expert mountain bikers prefer hardtails on smooth trails for their speed and lightweight, but many beginners start with hardtails and move on to full suspension after getting a feel for the sport. These bikes climb more efficiently and are generally cheaper.
Enduro Bikes – The Beginners Guide to Mountain Biking
Enduro bikes (also called all mountain bikes) are generally for more skilled riders, but they are also an excellent option for riders who plan to ride boulder-ridden or steep trails. It has a travel range of 150-180mm, and the bikes tend to be more challenging, burlier, and designed for bigger jumps and harder landings. More extended frames are better suited for downhill riding but can make climbing uphill more complex with more travel.
Downhill Bikes
The bikes are specifically designed for high-speed descents on steep downhills. The frame is optimized for fast downhill movement and has traveled in the 200mm+ range to absorb tremendous impacts and bumps. On the flip side, they are heavy and difficult to climb. A downhill bike is not everyone's favorite. Due to the continuous descent, you don't have to pedal much, but you still get a strenuous workout because you constantly react to the terrain's rapid approach.
Trail Bikes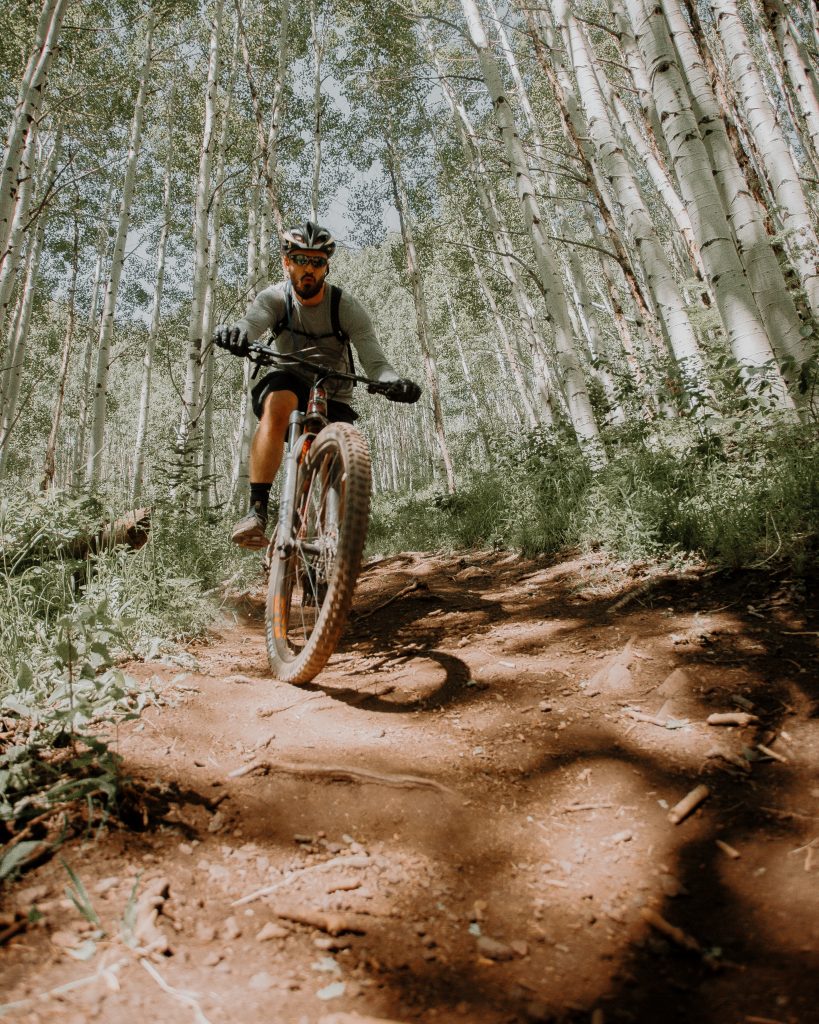 A trail bike is the first step to a full-suspension mountain bike. You can sit on this bike a bit more upright than a downhill or enduro bike, and the travel will be shorter than you might find on a downhill or enduro bike. On bumpy trails, they allow you to ride over more without worrying about getting knocked around too much since they absorb impact and motion from both front and back forks.
Fat-Tire Biking – The Beginners Guide to Mountain Biking
Fat-tire bikes are an excellent option for beginner mountain bikers on rough terrain. Bikes with fat tires measure at least 3.7 inches wide. They provide excellent traction in snow and sand. In addition to these conditions, fat-tire biking has become a rapidly growing part of all-season trail riding. It is very forgiving on rough terrain, which makes them an excellent choice for beginner mountain bikers.
Choosing The Right Mountain Bike Size
Measuring a bike's size can be tricky, especially since features like the handlebar width and seat height are adjustable. There are usually four bikes: small, medium, large, and extra large, but some brands use different measurements. Check the size charts and ask your local shop's professionals for advice on sizing. Getting to know your height is the first step; if you fall somewhere in the middle, you can test a couple of sizes. Standing comfortably over the top bar with flat feet would be best. The pedaling position should not make you feel stretched out or clumsy.
Skills And Safety Tips For Mountain Biking
Mountain biking is dangerous, but you're less likely to get hurt if you start strong. It is essential to know the following skills and safety points: don't do anything unsafe, and treat the trail with respect. It's hard to master some necessary skills, but it's essential. Knowing a few key positions and tactics will help you progress more safely. It will help you feel more comfortable on trails if you learn to treat your bike as an extension of your body. In terms of developing skills, the biggest hurdle may be learning to let go of a bit of control, but it will pay off in the long run.
Getting The Right Mountain Bike Gear And Clothing – The Beginners Guide to Mountain Biking
Wearing regular gym clothes can be a great way to get started, even though mountain biking apparel and gear are booming. Wear moisture-wicking fabrics, and avoid loose material around your legs that could get stuck in the bike. It is definitely a good idea to invest in some protective gear. New mountain bikers will likely need additional protective equipment and a helmet. You'll need bike gloves, sunglasses, and tall socks if you ride through brushy areas. It's better to wear your favorite grippy outdoor shoe if you don't own mountain bike-specific shoes. You can make your bike more convenient by attaching a water bottle holder, hydration pack, tire changing supplies, and multitool bike.
Travel Tips For Mountain Bikers
Despite being in great shape, mountain biking can be challenging. At first, it's difficult to maneuver your bike on steep and rocky terrain, especially when you're learning how to change gears and adjust your bike. A trip that involves mountain biking all day for days on end is the perfect way for beginners to get hurt, pull a muscle, or tire themselves out very quickly.
There is no standard system for rating trails. As long as you aren't swinging at a resort, you can't know the difficulty level except the average rating of fellow riders. Many people have trouble walking on exceptionally rocky paths, whereas others have no difficulty climbing long uphill climbs. Your ability to evaluate trail ratings will improve as you ride more.